Having an attractive stream overlay is something many streamers pride themselves on but deciding what style or theme is the best fit for your channel can be frustrating, especially when there are so many options.
That is why we decided to write this article providing four free popular stream styles to help get you on your way to having a memorable stream experience. All the below overlays are free to download, but we do offer the designer files for a small fee.
What is a stream overlay?
Stream overlays are what streamers use to portray a certain style or theme across their channel. This helps in creating an eye-catching and more interactive stream experience for the viewer. Overlays also display different points of interaction based on the streamer's requirements. A great example of this is when a viewer submits a donation, the overlay can display the donor's name and amount, giving them a chance to comment on this live on stream.
Our animated overlay is a must for every stream. Coming in a variety of colors to match your style and game play or in full RGB.
With the following colors included; Blue, Green, Pink, Red, Yellow, Full RBG cycle it's easier than ever to theme your stream.
Want to edit the design yourself? Simply download the source files
Our free clean overlays provide a minimalist yet professional understated look to your stream. Perfect for every stream style and game.
Blue
Pink & White
Red & Orange
Blue & Purple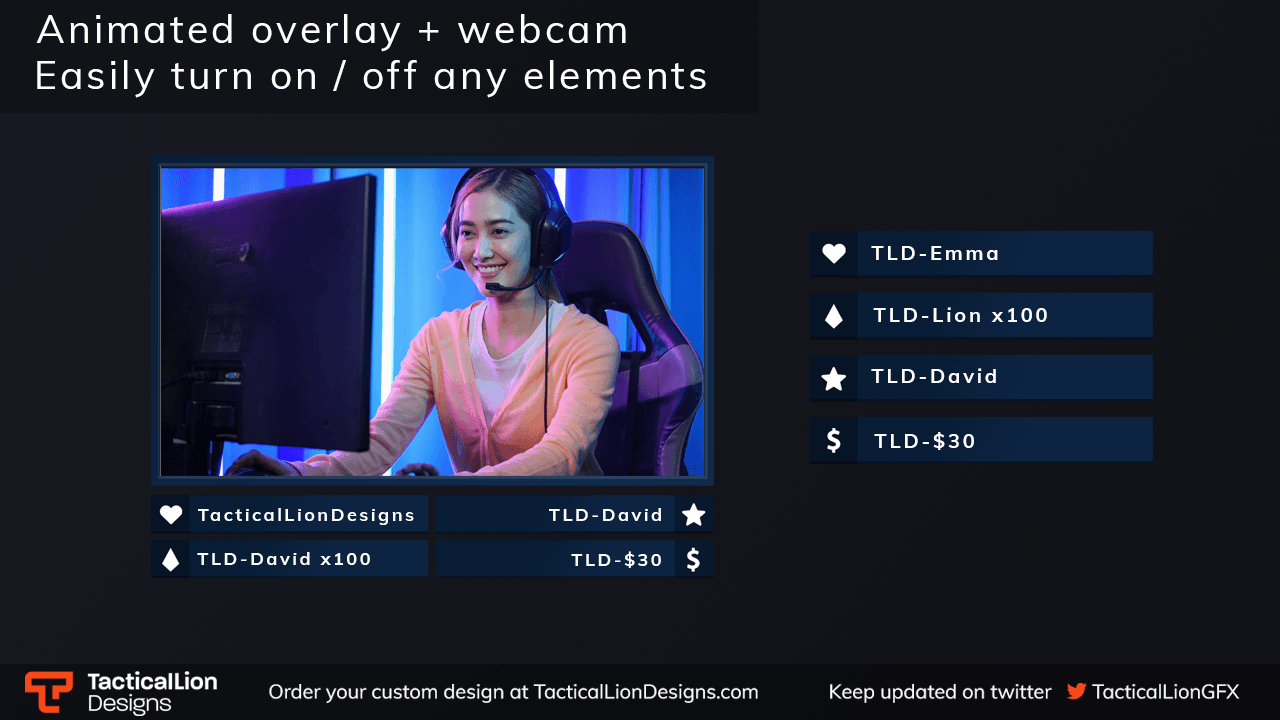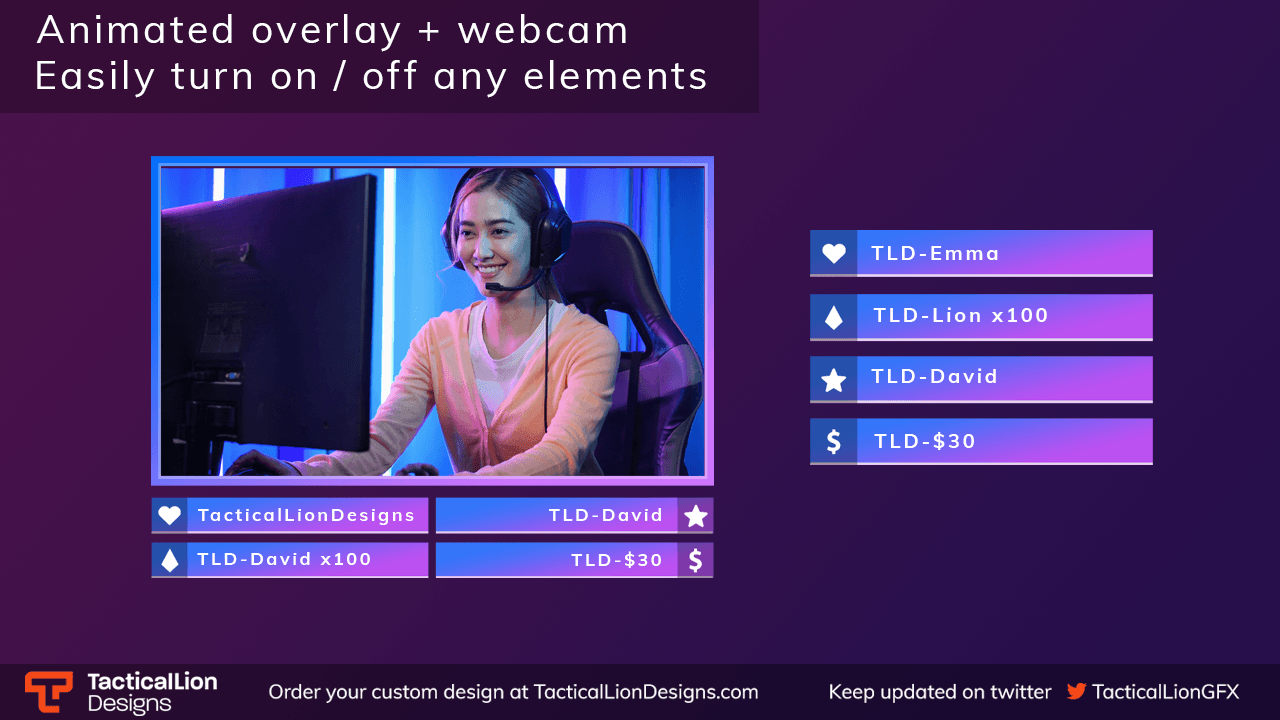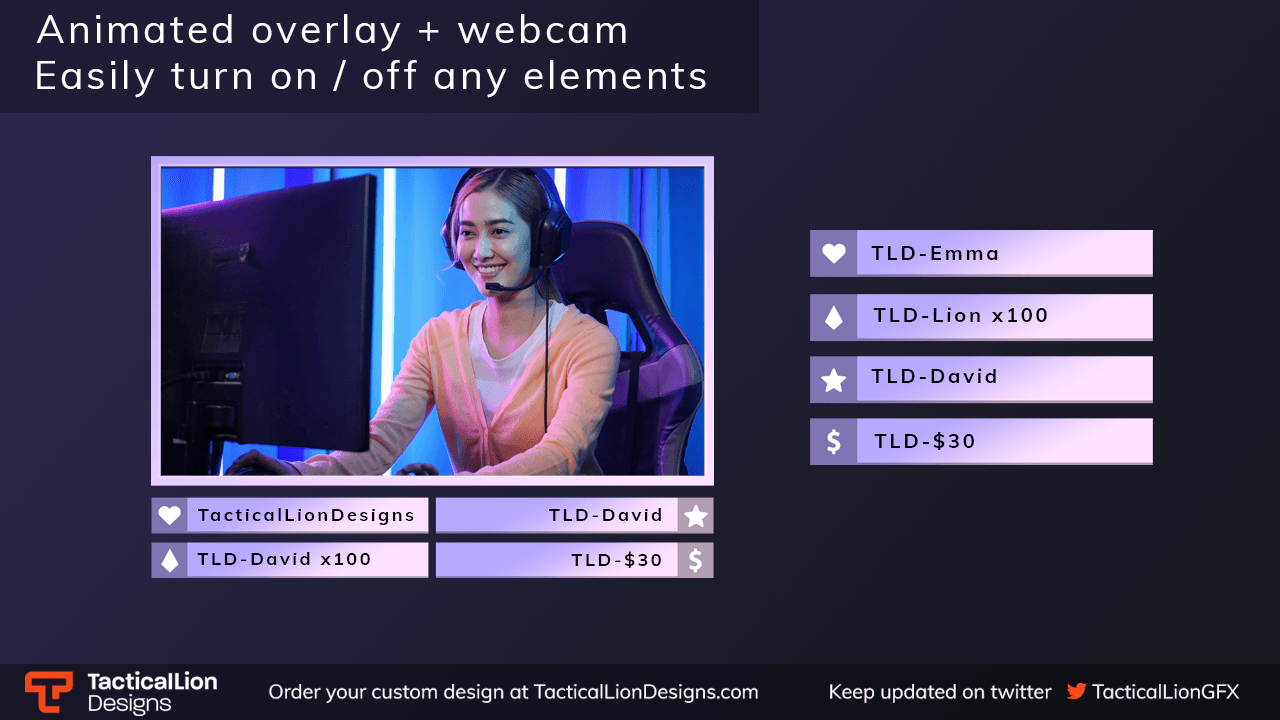 This is the ideal set up for poker streamers, offering a unique and clean design to boost your channel to a professional standard.
With poker at the heart of this overlay and clean execution, this is the perfect choice for streamers wanting a confident yet understated look.
Custom, premade and free designs
Our neon overlays are a great way to make your stream stand out. Easily catch the viewers eye with a minimal yet neon inspired overlay.


Blue
Green
Orange
Purple & Pink
Red
Customized stream overlays are becoming more popular among streamers in order to get noticed. Our portfolio is a great place for inspiration about what type of design or animation fits your style.
Already have a great design idea in mind but need help with the execution? We have a fantastic collection of custom packages and pre-made designs.