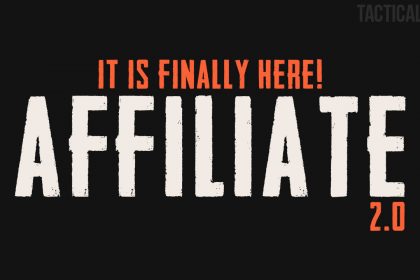 We are happy to announce that our Affiliate program is now entering version 2.0. Since we have had such a successful beta phase we have opted to open this up to everybody no matter how many viewers/subscribers you have.
What does this mean?
This means that our Affiliate program is now open to all of our customers.
How do I sign up to be an Affiliate?
To sign up simply vist the following URL:  https://tacticalliondesigns.com/affiliate-register Once you have applied you should be automatically accepted and the redirected to our main affiliate page. One this page you will find a selection of items such as your unique URL, reports and payout options.
How do I refer one of my viewers?
To do this simply head to our affiliate area here: https://tacticalliondesigns.com/affiliate-area/?zn_pb_edit=true Once on this page you will see "Your referral URL" this is the link you need to send to your viewers. There are many ways to do this you can directly send them the link or use one of our banners and link this to your url.
Do you have any banners I can use to advertise you?
We have a selection of banners and logos which you are free to use. These can be found under the creative tab in our affiliate area aswell as below:
AFFILIATE TERMS & CONDITIONS.
All affiliate registrations are automatic. You may register to become an affiliate and, when approved, you will be given a unique referral ID that you can use to promote products and services on this website. Upon accessing your affiliate area there will be a selection of banners which you can use.
Approved affiliates will earn 10% on all successful referrals. For instance, if you refer a customer and they spend $100, you will earn $10.
Affiliate commissions are paid out on the 15th of each month, though only referrals that are older than 30 days and still in good standing will be included with the payout. If, during the 30 day period before a commission is paid out, the originating purchase is refunded, revoked, or removed in any way, we reserve the right to revoke the affiliate commission on that purchase.
All affiliate commissions are paid out via PayPal in $ and require a $10 minimum balance. You may be contacted before a payout to confirm.