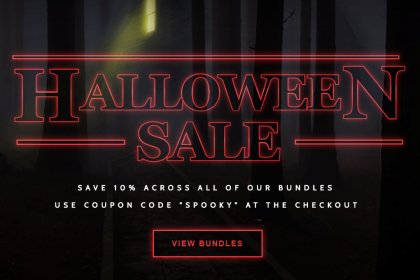 We are happy to announce today that we have launched our Halloween sale. From now untill the 1st of November, you can get a 10% discount across all of our bundles.
To get this discount simply enter the coupon code "SPOOKY" at the cart or checkout stage.
Our graphics bundles are a total graphical overhaul for any channel no matter how big or small. We believe that channel artwork is a vital and somewhat overlooked tool to help you both define and cement a long lasting brand.
Having a clear and effective " brand " presence is essential to help your viewers understand and appreciate your content and even identify you among a crowd of millions of other streamers. The streaming market is so diluted that you will have to make your content distinctive to stand out. The foundation for creating a unique experience would be to visually who you are and what makes you memorable.
Branding is one of the first steps which should always be considered whether you are a large or small streamer. However, it is not a guaranteed way to make it large as a streamer. Many things have to align to get there. But having a clear and easily recognizable logo, twitch pannels and so on, can 100% tell a story of who you are and what kind of experience people are going to undertake by becoming a view of yours.
We currently offer a wide range of bundles such as our more popular Complete Bundle, Twitch Bundle and Youtube & Twitch Bundle.
To check out our complete list of bundles and other products simply head on over to www.tacticalliondesigns.com